NEW! The "AUDIO-POD IFB" System,
a Microphone ON-Off Controller With
Integrated Stereo Headphone Amplifier for Program
and IFB Receive Audio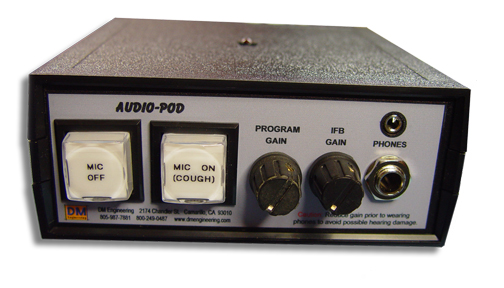 The ideal solution for remote broadcasts requiring IFB receive audio from the studio, and works in conjunction with other Audio-Pod modules and Power Supply

The Audio-Pod IFB module features microphone On-Off control with an integrated stereo headphone amplifier for program and IFB receive audio with separate gain controls, and includes a high quality-low noise mic pre-amplifier with switchable phantom power. One Audio-Pod Power Supply (not included) will power up to four Audio-Pod modules, and any combination of Audio-Pod module types or options may be combined using the same Power Supply. 10 foot power supply cables and trimpot adjustment tool are supplied.
Table-top brackets for mounting the Audio-Pod IFB modules are also available.
The optional Mic pre-amplifier portion includes the following features:
• High quality, low noise mic preamp circuitry with rear panel variable gain control
• Phantom power provided with rear panel on-off switch and LED indicator
• Precision metal film resistors used throughout audio chain for low noise

The microprocessor controlled Mic ON-OFF control portion includes the following features:
• Large LED differentially lighted Mic-On and Mic-Off long life silent reed type push buttons
• Cough-mute function integrated with Mic-On button (Operational with local control mode enabled only)
• LED indicator on the top of the Pod indicating a Mic-ON condition for control room observation
• Local Mic On-Off feature may be disabled and controlled remotely
• Remote control of Mic On-Off function with a logic low or contact closure may be accomplished with either local control enabled or disabled
• XLR connectors for Mic in and out (balanced) as well as Eurostyle screw terminal termination of Mic out connection on the rear panel
• Solid State Relay output drive voltage provided, continuous or flashing, (option) to drive a DME Solid State Relay Pack or customers own solid state relay for ON-AIR lamps or for external LED indicator (multiple Audio-Pod SSR outputs may be connected in parallel to operate one SSR in the constant SSR output mode only)
The integrated stereo headphone amplifier section includes the following features:
• Voltage Controlled Amplifier (VCA) circuitry employed (program audio only)
• Power Op-Amp headphone output providing both the power and P-P voltage required to drive headsets ranging from 8 to 600 ohms
• Rear panel output phase switch (0/180 degrees) to address bone conduction cancellation issues often experienced by users
• ESD protected ¼" and 3.5mm stereo headphone output jacks on the front panel
• Rear panel "maximum headphone gain set control" to restrict the maximum headset output (program audio only)
• Single ended L&R inputs on rear panel 3.5mm stereo jack for quick connect and disconnect
• Precision metal film resistors used throughout the audio chain for low noise
The IFB Audio receive audio circuit includes the following features:
• Single ended rear terminal strip input connections
• Input amplifier section for IFB audio with it's own volume control, integrated with the headphone mixing bus
• Accepts levels of -10db and higher
REAR VIEW Model AP-IFB
Model number convention: AP-IFB - Z

Z= C (continuous SSR voltage output) or F (flashing SSR voltage output)

Audio-Pod Power Supply (powers up to 4 Audio-Pods)

Audio-Pod IFB - $339.00
Audio-Pod Power Supply Model AP- PS - $94.00
Table Top Tilt Mounting Bracket Model AP-TTB - $29.00

There is no additional charge for option Z.