The AUDIO-POD
Dual Stereo Headphone Amplifier
The Audio-Pod Dual Headphone Amplifier is a high quality stereo headphone amplifier pair which is ideal for remote and talk studio applications. The two independent amplifiers are fed from a single ended mono or stereo source either via a Eurostyle rear screw terminal block or a 3.5mm stereo jack. Output levels are designed to feed 16 to 600 ohm stereo headphones at levels that will satisfy the most demanding talent. Both ¼ inch and 3.5mm front panel stereo connectors are provided for each amplifier. A rear panel Maximum Gain Set control is provided that allows restricting the maximum gain to levels that will not cause possible hearing damage. Rear panel180° Phase shift capability is provided for each amplifier to correct for bone conduction issues that may cause an out of phase condition for some users.
The Audio-Pod Dual Headphone Amplifier is powered by an external Power Supply, model AP-PS. One Power Supply will supply power for up to four Audio-Pod modules, and the modules may include any of the available variety of types and options. 10 foot Power Supply cables, hook and loop mounting pads and a trimpot adjustment tool are supplied.
Optional permanent table top tilt mounting brackets, under table brackets, and recessed flush mounting bezels for permanent flush mount solutions for the Audio-Pod modules are also available. See the Audio-Pod Mic Controller page for examples.
The stereo headphone amplifiers feature:
• Voltage Controlled Amplifier (VCA) circuitry employed (no "dirty" pots)
• Power Op-Amp headphone output stage providing both the power and P-P voltage required to drive headsets ranging from 16 to 600 ohms
• Rear panel output phase switch (0-180°) to address bone conduction cancellation issues sometimes experienced by users
• ESD protected front panel 3.5mm and ¼" stereo headphone output jacks
• Rear panel maximum headphone gain set control to restrict the maximum headset output to prevent possible hearing damage and liability issue avoidance
• Single ended L&R inputs via a rear panel 3.5mm jack for quick connect applications and on Eurostyle screw terminal connectors for more permanent connections
• Precision metal film resistors and low-noise IC's are used throughout the amplifiers for low noise and stability.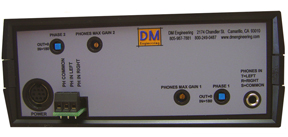 REAR PANEL VIEW Model AP-DHA
Model number convention: AP- DHA

Auido-Pod Power Supply (One required with each system, powers up to 4 Audio-Pods)

Audio-Pod Dual Headphone Amplifier - $169.00
Audio-Pod Power Supply Model AP- PS - $89.25