NEW! The Silence Sense-A.C. Silence Detector with Both
Relay Contacts and Solid State Switched 120VAC Outputs
FRONT VIEW
We have combined two of our more popular products, the Silence Sense Jr. and the Studio Solid State Relay Pack, to bring you this useful device. The Silence Sense-A.C. is a microprocessor-based device that senses the presence of audio from a single ended input over a wide range of input levels. A user adjustable input level control and a green LED indicator are used to set the input sensitivity. When the audio input ceases for a predetermined user selectable period, (approximately 6 seconds to 4 min. maximum timeout), a red LED indicator signals the preset time period has been exceeded and a set of relay contacts are activated. These contacts may be set to a momentary pulse (1 second) or remain constant for as long as the audio is not present, depending on the front panel switch selection. An internal jumper may be moved to select the relay output to either normally closed or normally open contacts. (The SS-A.C. is shipped with N.O. contacts set by default.)
At the same time as the relay energizes, 120VAC, up to 5 amps, is applied to the NEMA "U" ground AC connector on the rear panel. The Solid State Relay will remain on continuously until audio is firmly re-established. The AC output from the Solid State Relay is not subject to the momentary and constant switch selection that controls the relay contacts.
Power for the Silence Sense-A.C. is supplied by the incoming 120VAC line. Battery back-up (9V alkaline) is provided to assure operation of the silence sense circuitry and the relay contact output if the AC power fails. Both Silence Sense detection and battery back-up power are disabled when the front panel Power switch is in the off position.
A set of input terminals are also provided to activate the Solid State Relay remotely, even when the power switch is in the off position. The remote operation may be from any normally open contacts such as a remote control or switch, and will provide AC output as long as the AC input power is available to the unit.
REAR VIEW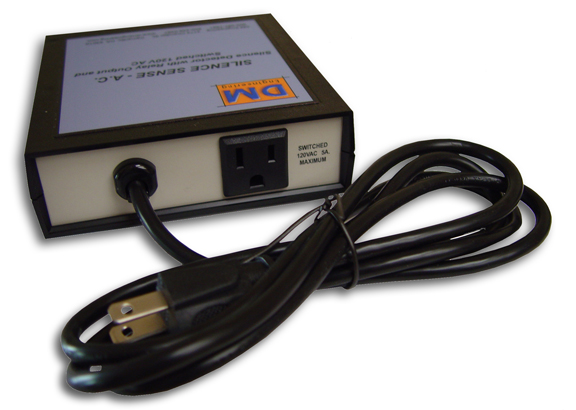 Model number: SS-A.C.
Silence Sense-A.C. $179.00


Click Here For User Guide